FREQUENTLY ASKED QUESTIONS:


WHAT KINDS OF SERVICES DO YOU PROVIDE? Ramsey Communications offers a wide selection of services to broadcasters, recording studios and other organizations. We can provide repair services for audio or radio broadcast equipment on an on-going or hourly basis. Most stations take advantage of our On Call Service Package that provides quick response to the their technical needs.

DO YOU WORK ON TRANSMITTERS AS WELL AS STUDIOS?: We have over 40years of experience with AM, FM and TV transmitters and related equipment.

HOW MUCH DO YOU CHARGE FOR YOUR SERVICES: We have competitive rates and can work on an hourly, weekly, monthly or a la carte basis, or on a turn key basis for installations. Contact us for details.
DOES MY STATION NEED TO HAVE AN ENGINEER IF EVERYTHING IS WORKING CORRECTLY? Even though everything appears to be working fine, setting up a regular preventative maintenance schedule will save you time and money. Transmitter sites should be visited on a regular basis and documentation of FCC compliance is extremely important.

WHAT ABOUT THE FCC? The FCC issues monetary forfieturers in the thousands of dollars practically every day and broadcasters are not exempt. If you don't have a regular technical staff Ramsey Communications can come on site and do a mock FCC type inspection. We can even help with your Public File which is one of the most difficult rules to comply with. Even if you have a technical staff Ramsey Communications can spot check them to make sure they have your license properly protected.
Partial Client List:

Northeast Public Radio
Connecticut Public Broadcasting
Educational Media Foundation
iHeart Radio

Marlin Broadcasting

Hall Broadcasting
Harris Corporation

Connecticut
School
of Broadcasting

Yale
University
Central
Connecticut
State
University
Manchester Community College

University
of
Hartford

Buckley Broadcasting

Hartford
Board of Education

University
of
Connecticut
,
Torrington

Asnuntuck
Community College
,
Enfield
Fine Arts Radio, Inc.

Beethoven.com
Multi tenant Sites Are Our Specialty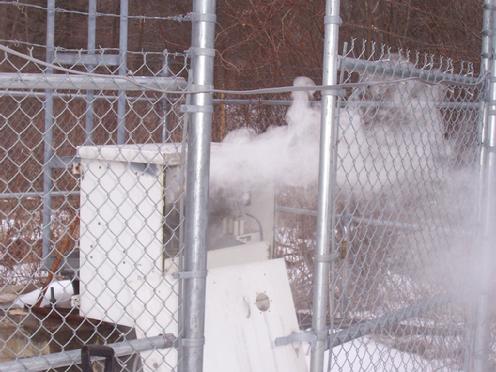 Proper maintenance might have prevented this.
Also check out:
www.hartfordradiohistory.com
www.coldwar-ct.com